Reverse Osmosis Water Filter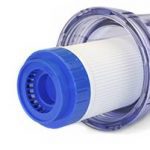 Are you looking for a reverse osmosis water filter? Since the emergence and introduction of Reverse Osmosis water as a home water purification system, it has grown widely, among almost every home as today.
In case you wonder what RO is, it's a technological way of removing particles, molecules and ions commonly found in the water by using its semi-permeable membrane.
Osmosis is a phenomenon where pure water flows from a dilute solution (medium of lower concentration) through a semi-permeable membrane to a medium or higher concentrated solution. If the pressure is greater than the osmotic pressure applied to the higher concentration, the water flow direction through the membrane can be reversed.
Small molecules and ions will pass through the membrane to dissolve substances present in the water. A greater pressure than the osmotic pressure applied to the high concentration will flow the water channel through the membrane to be reversed. This reversed flow produces clean, tasteless pure water from the salt solution since the membrane does not allow the passage of salt through it.