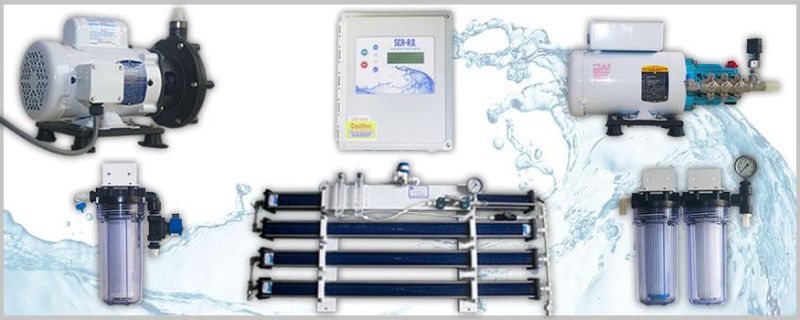 Why modular watermaker designs make the most sense.
Are you looking for modular watermakers? Sea-R.O. manufactures the widest range of modular watermakers in the industry.
Talk to any system installer, yacht engineer, or technician and they will all tell you that modular designs offer the best options for installation and when service is required, modular systems allow easy access to rebuild pumps, replace membranes, etc.
By utilizing smaller available spaces which can be a good distance apart, modular designs can be installed in just about any sized vessel without sacrificing as much space as so-called "compact" or "framed" systems.
Modular systems are comprised of six components:
Feed pump
Prefilters
Fresh water flush filter
High-Pressure pump
Pressure vessel / membrane array
Electrical and Hydraulic control panels
General guidelines for component installation locations:
Since every boat is different in how the machinery spaces are laid out, there is no right or wrong way to install modular systems, however, some basic guidelines for each component is provided below:
1. Feed pump –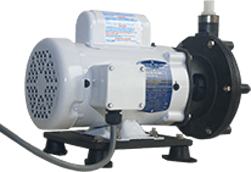 The feed pump requires a "flooded suction" which means it has to be mounted as low as possible so that the pump inlet is below the waterline. An appropriate sized dedicated thru-hull fitting with sea strainer need to be installed in the boat prior to the feed pump.
2. Prefilters –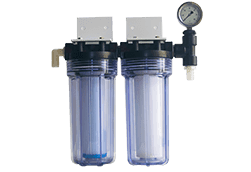 The prefilters are the single most common component that requires servicing in the watermaker and the life span is directly related to the area of the vessels operation. In the gin clear waters of the open Atlantic and Caribbean, the filters will obviously last much longer that use in coastal areas or for instance New England and the Pacific Northwest in summertime when plankton blooms may occur. Since you may getting to these fairly often, the prefilters should be installed where they are easy to access and remove and replace with the consideration that there is likely going to be some water dripped and spillage may occur, so an area that drains to the bilge is best.
3. Fresh Water Flush Filter –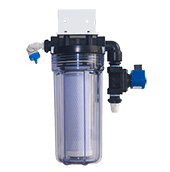 This filter system is only filtering any chlorine out of the vessels fresh water supply to be able to safely flush the system and membranes and only needs servicing every 6 months to a year, so this can be tucked away.
4. High-Pressure Pump –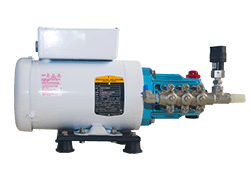 The high-pressure pump is the only source of noise in the system so we generally like these installed in a machinery space or engine room, which are insulated from the living areas of the vessel. Oil changes are called for after 50 hours for initial break in and then every 500 hours. Pump servicing for seals and valves is infrequent, but location should be considered that allows access for this when it is necessary.
5. Pressure vessel / Membrane array –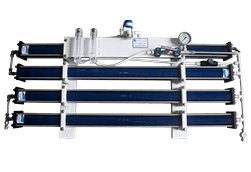 Membranes typically last 5 years plus before replacement is necessary and given that the membranes are inside of the pressure vessels and must be slid out for removal and replacement, it is most common that the pressure vessel array is removed for membrane servicing.
6. Electrical and Hydraulic Control Panels –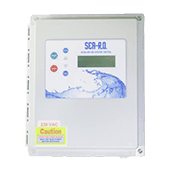 These panels are the operator interface with the equipment unless system is one of our models with a remote control. These should be installed where they can easily be accessed for this reason. There is no maintenance per se, but convenient access is best. Once systems are started and operated, daily starting and stopping can be done from the remote control if system has this feature.
Follow us on Facebook.