Sailboat Watermaker
Are you in need of a sailboat watermaker? Like the Reverse osmosis filter, a watermaker is a device used to produce potable water. This implies that the same method of getting purified water at home is the same as the one at sea. However, the only difference is when it comes to powering them. Watermakers are commonly referred to as "desalinators" in the boating industry.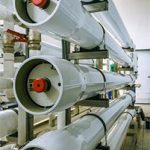 People consume water every day. In developed countries, the average water consumption is an average of 55 Gallons of water per day. However, when water supplies are not normal or in emergency situations, water supply is limited.
All watermakers designed for small boats rely on the same technology, exploiting the principle of "reverse osmosis." A method of high-pressure pump that forces seawater through a membrane allowing water to pass through except for salt.