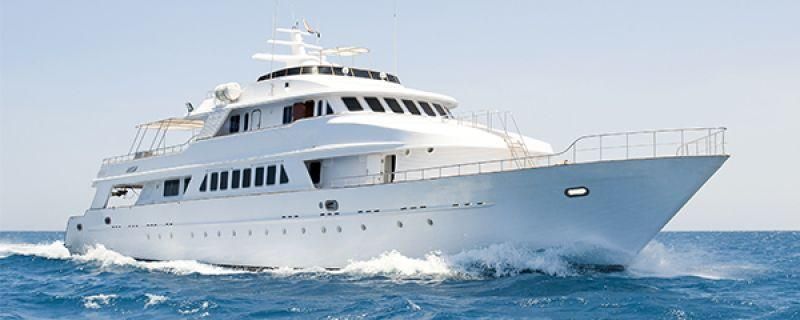 If you think that a boats deck lined with blue jugs looks great, or if you really enjoy not taking a shower for weeks, a watermaker is probably not for you. Otherwise, read on, and find out just how simple it is to install and operate a piece of equipment that can truly change the way you cruise and add to your enjoyment and comfort.
Simply put, a watermaker squeezes the fresh water out of seawater by pushing the water through a material that will only allow fresh water molecules to pass through. The rest of the solution with the salt is continuously discharged back to the ocean. The technology has been around for over twenty years and today's systems are by far the best ever made.
The actual technology is called reverse osmosis desalination and all of the modern watermakers utilize a "thin film composite, spiral wound membrane".
The quality of the product water produced is excellent. The water exceeds all World Health Organization and US EPA standards, is crystal clear and you will quite likely discover that there is no longer any need to purchase bottled water for drinking. Imagine having an unlimited supply of water and not having to plan your cruising around "water stops".
Desalination systems work by removing dissolved solids. The final product water has all the trace elements that are present in seawater (and your body). These are reduced from normal seawater concentration of 35,000 parts per million to approximately 200-300 parts per million.
A watermaker insures that the water going into your tank is pure and healthy. You will have the ability to take care of valuable fishing tackle and dive equipment, wash decks and windshields and port lights to get rid of salt spray and crust, even produce water pure enough to use as battery "make up" water.
While some manufacturers will claim "World's best" or "Worlds finest", the fact is that there is a lot more similarities in the systems than there are differences, and most of the systems currently on the market will perform very well for you. Selection of a watermaker is really an issue of defining your water usage, your boats existing space and electrical power source available, then shopping for the unit that fits the bill. The rest of this article should help with this.
Sizing
Watermakers are typically rated by a daily output in gallons or GPD. This is based on a 24-hour day, so I would start by converting any of the systems to an hourly output rate or GPH. For example, a mid-sized system may be rated at 400 GPD, which is 16GPH.
You can figure out how much water you will need to produce by using your own past experience. For example, let's say you have a 200 gallon water tank, and the last time two of you were aboard the tank of water lasted for 5 days. 200/5 = 40GPD or 20GPD per person. This is a fairly common amount per person to use. Consider that at home, the average consumption is 100 gallons per day, per person.
Using the above example, you would need a system that can replace 40 gallons of water a day. The system rated at 400GPD (16 GPH) would run for 2.5 hours to achieve this. When you have additional guests on board, you will just have to run the system for a longer period. Remember, sometimes guests will use more water than experienced boaters, so plan accordingly.
If you are an avid diver or fisherman, allow for the extra water needed to give your gear a rinse. Also, dishwashers, clothes washers, fresh water flush heads all need to be factored in to your estimate.
Installation
Watermakers have two basic designs, either "compact" units that have as many of the systems components already packaged in a frame, or "modular" designs that require mounting of several components in different locations. Both systems have benefits, but your boats existing space will probably decide which system will be best.
Compact systems are very simple to install, typically only needing three hoses and one power cable to be connected. These systems are a good choice as long as the space is available. Be sure to find out how much space is needed around the system for maintenance.
Modular systems offer the most flexibility in installation and in most boats they are the preferred design. A modular system allows you to use small, available spaces to mount the components, and then simply plumb them together. The system will take slightly longer to install, but once done, the serviceability and component access can't be beat.
Watermakers can be powered from a variety of sources, but due to space available in this article and the popularity of this size range, we are focusing on AC powered system that require a generator of 4.5 kilowatt output, or larger.
On the average, for systems rated at 200-800 GPD, 1-1/2 horsepower motors are used for the high-pressure pump. This requires a 4.5 kilowatt generator to start the systems. A 1200-1500 GPD system requires 3 horsepower and a 10 kilowatt generator.
Watermakers can be "do it yourself" installed by anyone with fair to good mechanical skills. I would recommend getting a copy of the owner's manual for whatever system you are considering before you purchase, to see how well it is written and to clarify the installation.
Design Consideration
Watermakers are available from very basic, simple designs to sophisticated, fully automatic systems with remote controls and digital readouts. Obviously, the cost of the systems will reflect this. Basic systems are available starting at around $4500 from most manufacturers.
The "bells and whistles" offer convenience, but do not affect the quality of the water that the systems produce. The membrane itself determines the water quality and all systems on the market will produce similar quality product water.
In no particular order of importance, a few things to look for (and look out for), when selecting a watermaker.
All fittings and wetted metal parts should be 316 stainless steel. No different metals should be used together or galvanic corrosion will occur. Components should be "industry standard" size and type. Some manufacturers have started making unique sized membranes, filters, fittings, etc. These can be hard to find in the years to come if you are in remote locations. Any electrical controls or components should be housed in a non-metallic gasketed housing for corrosion resistance and personal safety. A fresh water flushing system should be fitted to the system to allow easy purging of seawater from the system when shut down.
Operation and Service
When cruising, a watermaker is generally run at least every other day. Using this schedule, all you do is turn the watermaker on and let it run for the needed time. For short term shut down, (up to three weeks), systems should be flushed with fresh water. For longer periods, either flush with fresh water again, or add a preservative.
It is not recommended that watermakers be run in most commercial harbors or marinas. Contaminants such as oil or fuel can be present, which can be drawn into the system causing damage to the membrane. A good rule of thumb is to ask yourself if you would swim in the water. Normally if it is good enough for you to want to swim in it, making water will be fine.
Once you have cruised with a watermaker on board, you will quite likely wonder how you ever did without one.
Bill Conry has over twenty years experience in the design and operation of seawater desalination and filtration equipment. Sea-R.O. is based in Fort Lauderdale, Florida and can be contacted at makeh2o@msn.com